A resume is potentially one of the most important pieces in your preparation for seeking jobs. Its goal is to provide a snapshot of your professional career that pertains to the position and company you are applying for. As you build your resume for an application, here are some recommendations to guide you. 
Add the Must Have Sections:

Typically, the information most necessary to have on your resume is contact information, education and/or certificates, and work experience. These are the core details that the hiring team will want to look at.

 

Add Any Additional Sections:

Depending on your experience and the job requirements, you may want to add more sections such as programs, languages, honors and/or awards, and school or community involvement. 

 

Only List Relevant Information:

Narrow down the information in your sections to only include what is relevant for the position and company you are applying for. If you have a long career history, you may also need to remove older positions to keep your resume shorter. 

 

Use Keywords:

Use the job posting to gather the main skillsets and duties of the position you are applying for. Match your experience with those details and showcase on your resume how you have used the skills and duties they are asking for.

 

Show Numbers and Value Added:

Showing the impact that you made in your experiences is one of the best ways to stand out to a hiring team. List how many calls you made, the number of people you led, the volume of requests you worked with, etc.

 

Keep it Short & Sweet:

The recommended length for a resume is one page. Your goal is to provide a quick snippet of why you are a good fit for this position, not to list everything you have ever done. Try to keep your details to three bullet points or sentences per experience. 

 

Proofread:

Always read over everything before finishing and submitting. It helps to read it aloud to ensure the sentence isn't confusing and to notice grammatical errors. Having someone else review it is also a great way to catch anything you might have missed. 

 
As you create your resume, there are plenty of templates online but be cautious of ones that might be too complex or unprofessional. We have created a template that you are welcome to use that you can view and download by clicking the picture below.
Always make your resume your own and customize it to the position and company you are applying for. We hope these recommendations give you a starting point to build your resume and get that job you are applying for!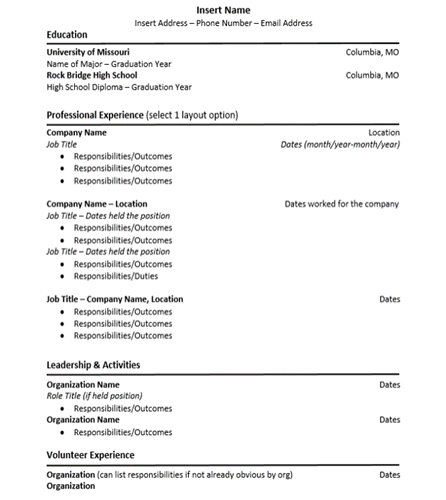 Click the picture to download our template